During my usual browsing around the net I came across the website of Kataoka Racing Service, a shop based in western Japan's Hyogo prefecture. They have an awesome photo gallery that spans nearly a decade of classic car events in Western Japan. Some of the most recent shots are from the Nostalgic Car Meeting/Battle Royale held at Central Circuit last month. Looking through the pictures, it looks like it was one helluva an event. All the usual classics were out, including the hakosuka, kenmeri, S30, 110 Sunny etc. It also appears that there was a very strong showing by the Nissan Bluebird/Datsun 510 and I even noticed an Isuzu Bellett GT as well as a wide-body Isuzu Gemini.
Is there anything better than a long line of classics about to take the track on crisp autumn morning?
This wicked black sedan was one of the many C10 Skylines at the track.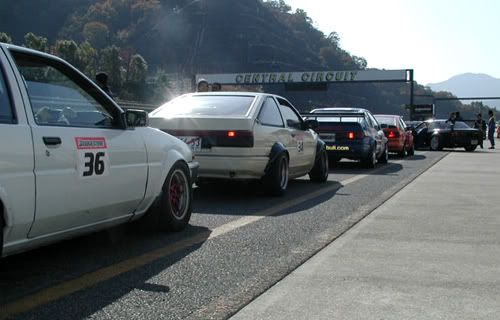 One of the race groups was made up of only AE86's.
BRE's cult-like following is alive and well among Japanese Nissan enthusiasts.
Head over to the KRS site to check out more photos. They even have a link to an English translation of the site, which makes navigation much easier. It's definitely one for the bookmarks.