So it's Friday night at 9:30 on the West Coast right now, most people are probably out partying or drinking with friends. Not me, I'm sitting here browsing the Internet, waiting for my wife to get home from work. What can I say, I live life in the fast lane. Luckily I don't have say it's time wasted because I found a couple videos and websites that are worth a look.
I came across the Office Tomitaku website where this fully restored Orange S30Z is presented along with several other vintage cars.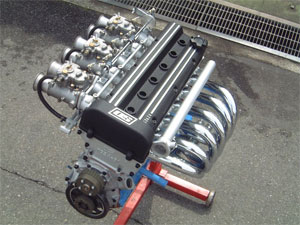 The car is powered by this. At first glance it looks similar to the famous Nissan S20 twin cam engine from the early GTR's and Z432's, but it's not. It's actually a standard L Series engine fitted with an ultra-rare TC24-B1 four valve twin cam head produced by OS Giken in the early '80s. Besides the six cylinder L-series version there was also an OS Giken twin cam head made for the four cylinder L-Series in the Datsun 510/Nissan Bluebird.
Check out the video. It has some great vintage from both outside and inside the car as it is driven like it was meant to be. Speaking of videos, Tomitaku's site has a great video section. Be sure to watch the one with the all-KGC10 Skyline race from 1985.
Lastly, I came across this video of a Team S20 KPGC10 GTR running flat out at in a field of car including a TS Cup KP61 Starlet and others. Make sure you have the sound turned up.